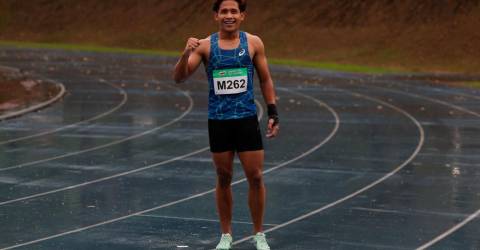 KUALA LUMPUR: National sprinter Muhammad Haiqal Hanafi (pix) clocked 10.46s to smash the Cambodia SEA Games qualifying mark enroute to winning the 100m event at the Malaysian Athletics Federation (MAF) Track and Field Championships here yesterday.
The time recorded by Muhammad Haiqal at the National Sports Council (NSC) mini stadium surpassed the qualifying time of 10.56s set by the Olympic Council of Malaysia (OCM) for the biennial games in Phnom Penh, Cambodia, this May.
Based on the time, Muhammad Haiqal now shares the same time recorded by another national sprint champion Muhammad Arsyad Md Saat who recorded it at the 2022 Malaysia Games (SUKMA) while young National sprint champion Muhammad Azeem Mohd Fahmi who holds the national 100m record is also on the list who qualified.
Muhammad Azeem clocked 10.09s at the Under-20 World Athletics Championships in Colombia, August last year.
Each country is allowed to field only two sprinters with the best time and who surpass the qualifying mark to participate in the event at the biennial games.
Muhammad Haiqal who won the gold medal at the 2019 Manila SEA Games did not participate in the Vietnam SEA Games in Hanoi last year after failing to pass the qualifying time.
"This is my first competition of the year. Usually, my time is not very good but I am proud of the achievements today," he told reporters when met here yesterday.
Earlier, Melaka athlete Khairul Hafiz Jantan finished the race in second place with a time of 10.51s followed by Malaysian Armed Forces (ATM) athlete Jonathan Nyepa in third position with a time of 10.53s. -Bernama
Source: Sprinter Muhammad Haiqal beats Cambodia SEA Games qualifying mark