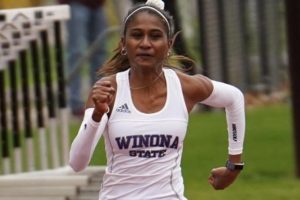 KUALA LUMPUR: United States-based Shereen Samson Vallabouy is on fire at the moment.
The Perak-born athlete clocked 52.27s en route to gold during the NCAA Division Two Indoor Track and Field Championships at Virginia Beach on Saturday.
Her timing had also bettered her own national record of 52.87s which she had set at the Lewis Invitational Indoor Championships in Illinois last month. It is the fourth time she has broken the national indoor record.
The time she clocked at Virginia Beach is even better than the national outdoor record of 52.56s set by Rabia Abdul Salam at the 1993 Asian Championships in Manila.
Shereen, who is reading recreation and tourism at Winona State University, was thrilled with her performance.
"It was my best ever performance over two laps indoor. I feel incredibly excited," said Shereen today, who is currently coached by Mason Rebarchek.
"What was really fantastic was that I managed to go faster than the national outdoor record of 52.56s set by Rabia 30 years ago.
"I am not sure whether my indoor time can be considered as the national outdoor record but looking at my performance, I believe it just a matter of time that I will break the national outdoor record."
She will get the chance to do so when she competes at the Phnom Penh Sea Games on May 5-17. Outdoor races are only one lap long for the 400m event.
Shereen is the daughter of former national runners Samson Vallabouy and Josephine Mary.
Josephine said that she and her husband are proud of the improvements shown by their daughter.
"If it was a one lap race she could have run much faster, possibly under 52s. We are hoping she will do even better at the Sea Games," said Josephine.
Perak Amateur Athletics Association president Datuk Karim Ibrahim also praised Shereen's efforts.
"It is not easy to run two laps and clock a better time than the outdoor 400m event. Shereen is the first (Malaysian) athlete who ran indoors but managed to beat the outdoor time as well," said Karim, who is also a Malaysia Athletics Federation (MAF) council member.
By Aftar Singh