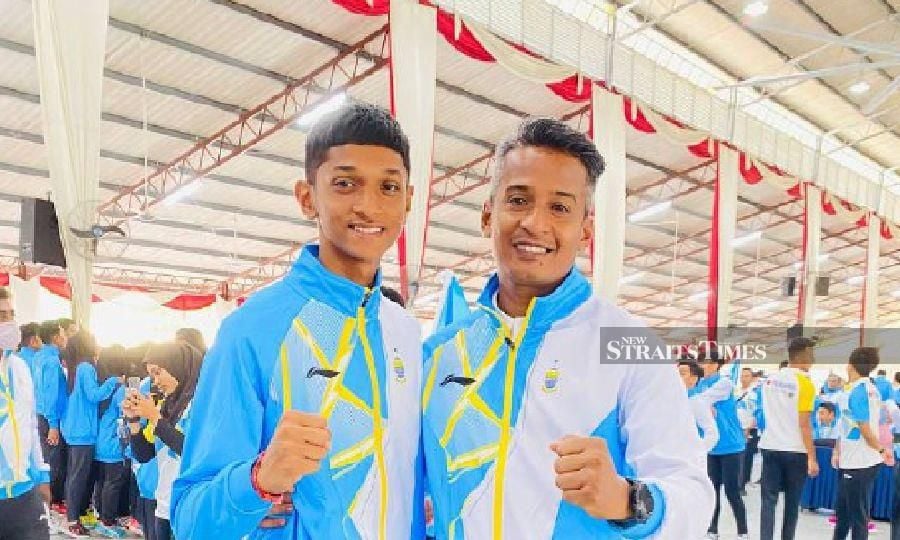 KUALA LUMPUR: Penang state coach Tan Chee Leong will continue coaching his son Sriven Tan for the upcoming Phnom Penh Sea Games (May 5-17).
Chee Leong had guided Sriven to gold in the 10,000 metre and silver in the 20,000m walk events at the Malaysia Games last year which subsequently qualified Sriven for his first Sea Games.
Chee Leong is now hoping to help Sriven achieve a new personal best (PB) at the Sea Games. The latter will only be competing in the 10,000m walk event in Cambodia as the 20,000m is not being offered.
"The Malaysian Athletics Federation (MAF) took my particulars as they want me to train my son for the Sea Games and also accompany him to Phnom Penh," said Chee Leong today.
"I guided him to win gold (10,000m) and silver (20,000m) at the Malaysia Games and the goal now is to achieve a PB at the Sea Games.
"As this will only be his first Sea Games, I am not expecting him to finish on the podium. Sriven is still very young so this will be a good chance to gauge where he stands at the South East Asian level.
"Sriven is sitting for his last Sijil Pelajaran Malaysia (SPM) exam paper today so we will only begin his training tomorrow. His first competition this year will be the Federal Territory All Comers meet at Bukit Jalil (Mar 17-19)."
Chee Leong and his wife D. Kavitha, who are both former competitive walkers, are proud of Sriven for qualifying for the Sea Games.
"We are happy that Sriven will be the first in our family to represent Malaysia at the Sea Games. It is an honour for our family," added Chee Leong.
"My wife and I had represented the state of Penang in walk competitions but never got the chance to compete at the Sea Games."
Chee Leong had won medals at the Perak (1994), Pahang (1996) and Selangor (1998) Malaysia Games. At the junior international level, he won gold at the Asean School Championships in Jakarta (1993), Bangkok (1994) and Jakarta (1995).