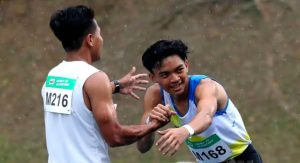 KUALA LUMPUR: Sprinter Pengiran Aidil Auf Hajam believes nothing is impossible following his victory in the 200m at last month's Malaysia Track and Field Championships (MTFC) in Bukit Jalil.
The 17-year-old Sabahan upstaged national sprinters Jonathan Nyepa and Khairul Hafiz Jantan to win the men's 200m final in 21.54s
Pengiran now aims to qualify for the Under-20 Asian Junior Athletics Championships in Yecheon, South Korea, in June.
He has to clock 21.38s in the Federal Territory First All-Comers Athletics Championships at the National Sports Council (NSC) Training Track in Bukit Jalil from March 17-19 to qualify for the Asian meet.
Pengiran has a personal best of 21.45s, which he did at the Under-18 Asian Youth Championships in Kuwait last October in the heats.
In the final, he clocked 21.65s for the bronze.
Pengiran said: "The MTFC victory has given me confidence, and I believe I can go faster in FT All Comers
"Last year, I made a memorable outing in the Asian Youth meet to return with a medal. And I hope for better things to come this year," said Pengiran, who will complete his Sijil Pelajaran Malaysia examinations at SMK Muhibbah in Sandakan, tomorrow.
His coach, Jumain Taepe, believes Pengiran will beat the Asian Youth mark at the FT All-Comers.
"In the MTFC meet, he took part in the 100m and 200m. But for the FT All-Comers, Pengiran will only compete in the 200m," said Jumain.
By Aftar Singh