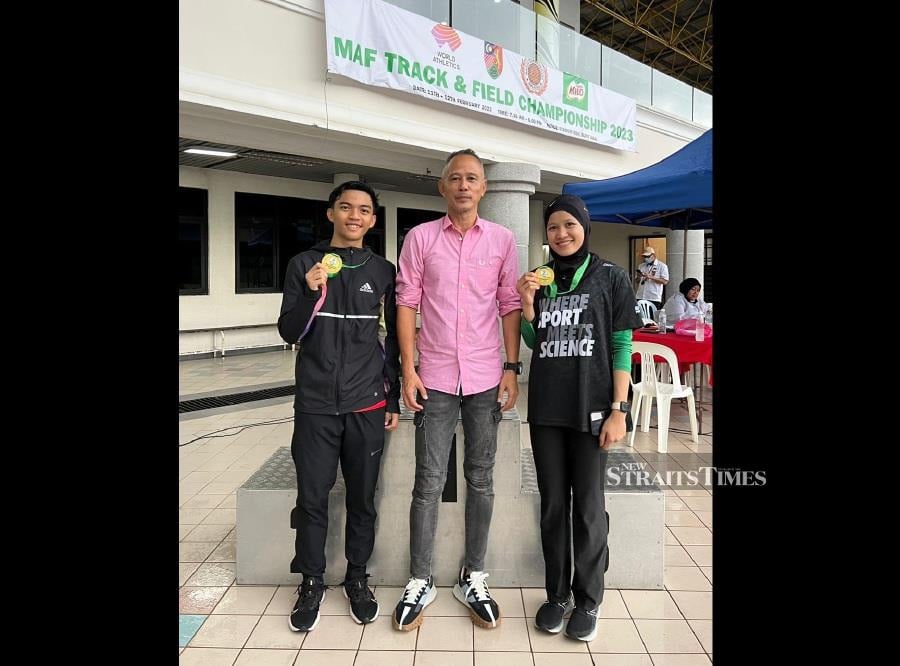 KUALA LUMPUR: State coaches have done a wonderful job in guiding their athletes to some very impressive performances at the Malaysian Track and Field Championships (MTFC) which concluded in Bukit Jalil yesterday.
Sabah coach Jumain Taepe produced two promising sprinters, Pengiran Aidil Auf Hajam and Nur Aishah Rofina Aling, who upstaged national athletes in the men's 200m and women's 100m events during MTFC.
Pingiran, 18, put national sprinters such as Jonathan Nyepa and Khairul Hafiz Jantan to shame by winning the men's 200m in 21.54 seconds.
Aishah claimed a surprise gold in the women's 100m with an 11.90s personal best (PB), beating former Sea Games silver medallist Zaidatul Husniah Zulkifli and Azreen Nabila Alias, who competed at the 2020 Tokyo Olympics, in the process.
Jumain believes it is only a matter of time before the duo become among the top sprinters in the country.
"Pingiran, despite his average physique, was able to outrun more experienced national sprinters (in 200m)," said Jumain.
"He was also able to set a new PB of 10.62s to place fifth in the 100m final.
"For Aishah, this is the first time she has dipped under 12s in a 100m race. My goal is to help her break the long standing national record (11.50s) held by G. Shanti since 1993.
"It will be tough but not impossible."
Johor's Umar Osman, 19, made his coach Simon Lau proud after clocking a PB of 47.28s during the men's 400m heats to dip under the Phnom Penh Sea Games qualifying mark of 47.46s. He went on to win the final.
Pahang's S. Poo Vasanthan, who is coached by his dad P. Subramaniam, ran the race of his life to win the men's 10,000m event in a new PB of 32:01.96s. The time was even faster than the Hanoi Sea Games gold medal winning time of 32:17.34s achieved by Nguyen Van Lai (Vietnam) last year.
Air Forces' S. Maheswaran, who is coached by V. Tiruvatiron, upstaged national athletes to win the men's 800m in 1:53.70s and make the cut for the Sea Games.
The coaches mentioned above deserve recognition for what they have achieved and are exactly what Malaysia needs to produce athletes capable of shining at the international level.
The time has come for Malaysian Athletics Federation (MAF) to review their whole coaching structure and make changes, possibly by bringing in some of these coaches into the national setup.